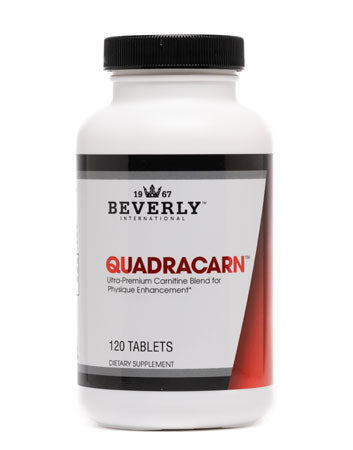 Beverly International Quadracarn
Save

$11.00
Save

$11.00
Original price
$42.95
-
Original price
$42.95
Supported payment methods
Quadracarn from Beverly International 
Beverly International Quadracarn (pronounced "kwa-dra-carn") really does do it all!   Energy, recovery, strength.  Quadracarn has four different types of the time tested supplement carnitine, including the most expensive, which most companies don't want to use. This is perhaps what makes it so good.  Men and women over 35 have found Quadracarn is particularly beneficial in their quest for body recomposition.*

Size:
120 tablets (40 servings)
Benefits:
Performance
Recovery
Muscle Building & Preservation: Beverly International Quadracarn may promote muscle building and recovery.
Fat Loss: During Beverly's own beta tests, men and women reported that they were able to gain muscle and get leaner at the same time while taking Quadracarn on a fat-loss diet.
Wellness
Why people love Quadracarn
Wide range of benefits: Users tell us that

Beverly International Quadracarn

 energy, mood, cognition, pumps, vascularity, fat loss, definition and more.*
Unique formula: It contains 4 types of carnitine, plus Gymnema sylvestre leaf, which can help support healthy metabolism.*

Who is Beverly International Quadracarn ideal for?
Though Quadracarn is especially popular with men 35 years of age and older, it can be used by men and women of all ages and fitness backgrounds.  Women over 35 that are beginning to see signs of menopause and woman that are peri-menopausal and post-menopausal have reported physique improvements with continued use.*
How to take Beverly International Quadracarn
Take 3 tablets of

Beverly International Quadracarn

, 3 times daily on workout days. On rest days, take 3 tablets, 2 times daily.
During periods of heavy training (e.g. twice-a-day workouts), athletes may wish to stack Quadracarn with ZMA 2000 to promote recovery.
Ironclad Guarantee:
Each form of carnitine is treated differently by your body and may produce different results. By combining several of them into one formula - Quadracarn - you may enjoy a greater range of benefits - more strength, more muscle, better recovery and less fat.* Experience Quadracarn first-hand. We guarantee that you'll never want to be without it again. You can even take a full 60 day supply, and if you don't agree, we'll give you your money back.
Click here to read what others are saying about Quadracarn…
*THESE STATEMENTS HAVE NOT BEEN EVALUATED BY THE FOOD AND DRUG ADMINISTRATION. THIS PRODUCT IS NOT INTENDED TO DIAGNOSE, TREAT, CURE OR PREVENT ANY DISEASE.