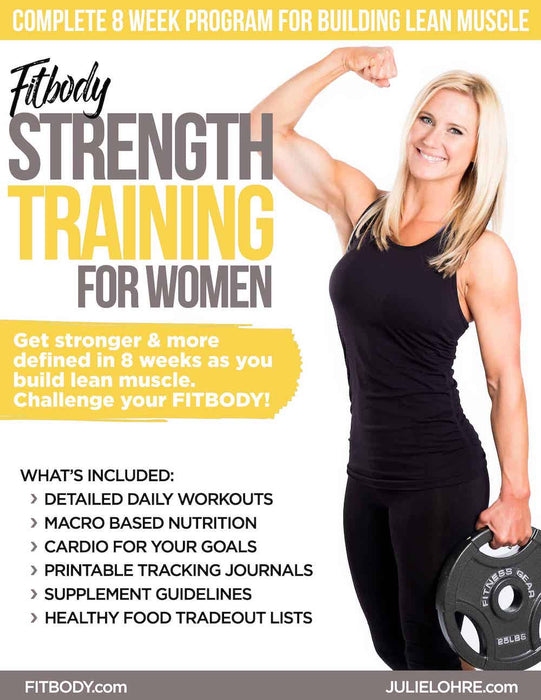 Julie Lohre's STRENGTH TRAINING PROGRAM for Women
Save

$51.00
Save

$51.00
Original price
$150.00
-
Original price
$150.00
Supported payment methods
Julie Lohre's STRENGTH TRAINING PROGRAM for Women

If you are ready to hit the gym & build lean, sexy muscle as you lose bodyfat, then the FITBODY Strength Training Program for Women is for you!

Detailed daily workouts so you will know exactly what to do from the moment you walk into your gym. These gym workouts for women are specifically designed to be done in a traditional gym but can certainly be accomplished at a modestly equipped home gym too!
Macro based nutrition guidelines to help you lose bodyfat as you gain lean muscle & build strength. I will take you through how to calculate your calories and daily energy expenditures to be sure that you are eating the right amount. 

 (This is not a full week by week meal plan…but a tool to help you build your own plan based on the guidelines I line out.)

The FITBODY Healthy Food trade out list gives your the flexibility to make changes and substitutions for your food as you would like through the plan.
Specific muscle building cardio directions to help you lose body fat while maintaining lean mass. If maximum weight loss is your goal, I offer an accelerated cardio program to help you lose more weight in a shorter period of time.
Printable tracking journals and detailed progress tracking so you will stay accountable and be able to easily document your fitness journey along with the progress you are making as you lose fat with both your measurements and your overall fitness.
Time tested, realistic guidelines for muscle building supplements that work specifically with a woman's body (including how to take them and which are best through each phase of your fitness journey).
My Strength Training Program is the perfect no nonsense guide to weight training and nutrition... it will help you achieve an amazing fit body in the shortest time possible. If you are ready to put in the hard work and to change your body and your life, this is the program for you


Daily Workouts
Know exactly what to do every time you workout! My FITBODY Strength Training for Women program includes 8 weeks of detailed daily workouts covering your whole body.
I line out specifically what to do for each workout, every exercise, how many the reps and sets... each time you walk into the gym you will know just what to do. No more wandering around or just repeating exercises you have done in the past.
To help you achieve your own fit body, you will be weight training 5 times per week with these gym workouts for women and pushing your body to the limits. This gym workout program is designed to be done in an equipped gym but can be modified for a home workout if you have a modest amount of equipment. Straight from the pages of my own training journals, I will help you get fit, tight and defined!
**My Strength Training Program is best for a woman that has at least some experience with weight training and is motivated to make real changes in a reasonable, healthy way!
Macro Based Nutrition
No workout plan is complete without proper eating. In each of my workout plans for women, I line out specific nutrition guidelines to help you determine the calories you need each day and the macronutrients you should be taking in. You will get my healthy food trade out list so that you can select the foods that make you happy and work best for your system! With so much variety, all of the FITBODY nutrition guidelines can be adjusted for special dietary needs... vegan, gluten free, vegatrian, food allergies ... no problem!   (This is not a full week by week meal plan…but a tool to help you build your own plan based on the guidelines I line out.)
This FITBODY program will provide the best macro nutrient breakdown for increasing your overall strength and building muscle while maintaining or losing bodyfat. Our goal will be to ignite your metabolism so you can gain lean muscle as your strength increases. You will be amazing at how many calories you should be eating and how quickly your body responds when you hit that optimal balance.
Specific Cardio Plans
With all of my FITBODY Workout Plans for Women, you will be incorporating a good amount of cardio vascular exercise to help you burn fat and improve heart health. Here, I provide you with a fully detailed cardio program.
Week by week, you will know specifically what kind of cardio to perform, for how long and how many calories to burn with that particular session. As you move through the program, I will show you how to adjust that cardio depending on your specific body type and goals!
For those really ambitious women with a significant amount of weight to lose, I offer an aggressive cardio option which is more time consuming, but that will produce faster results.
Track Your Progress, Get Results
One of the most crucial parts of all of my FITBODY plans is the accountability and motivation you receive by tracking your progress over time. Relying solely on a scale while taking part in one of my FITBODY training programs may be misleading and possibly frustrating for active women. Despite your best efforts, the scale may not respond like you might expect. This could be because you are gaining muscle while you are losing fat or a number of other factors.
Instead of just following your body weight, I prefer to track your progress with a combination of physical measurements in addition to seeing increases in strength, flexibility and endurance. Those will be observed with my FITBODY Fit Test.
Immediately accessible as a digital download. No hardcopy will be shipped.
Please note, all digital programs are non-refundable as there is no way to return them.
This comprehensive 8-week strength training program gives you the step-by-step guidance you need to kill it with your gym workouts achieve a healthy and fit body. It is time to find out all of the FITBODY Workout Program specifics you must know to succeed on your fitness journey.