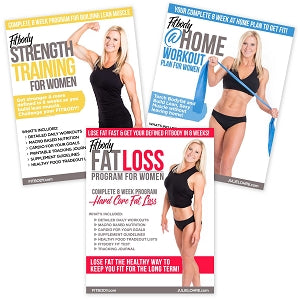 Workout Plans for Women Combo
Save

$146.00
Save

$146.00
Original price
$425.00
-
Original price
$425.00
Supported payment methods
GET ALL 3 WORKOUT PLANS FOR WOMEN!  
Pair them together for a full 6 months of training!
The FITBODY Workout Plan are designed for real women looking to make real changes in their fitness, health and eating. These are not quick fixes, they are targeted training plans to help you achieve your goals in a healthy way and keep the results!
Based on years of research and tested with thousands of successful fit body clients, these workout programs for women take away the guesswork. Step by step, they line out for you what to do for every aspect of your fitness regiment. Just choose the plan that best aligns with your fitness goals and needs and you can start one of my workout plans for women IMMEDIATELY since these are instant digital downloads. The next best thing to working with Julie Lohre one on one!
Every FITBODY Workout Plan includes...
DAILY WORKOUTS
Know exactly what to do every time you workout! Each of my FITBODY Workout Plans for Women includes 2-3 phases of daily workouts covering a full 8 weeks. I line out specifically what to do for each workout, every exercise, how many the reps and sets... everything expect the specific amount of weight that you need to lift. While the individual programs will focus on different areas and goals, each one is a COMPLETE FULL BODY training regiment to help you achieve your own FITBODY!
NUTRITIONAL GUIDELINES
No workout plan is complete without proper eating. In each of my workout plans for women, I line out specific nutrition guidelines to help you determine the calories you need each day and the macronutrients you should be taking in. You will get my healthy food trade out list so that you can select the foods that make you happand work best for your system! With so much variety, all of the FITBODY nutrition guidelines can be adjusted for special dietary needs... vegan, gluten free, vegatrian, food allergies ... no problem!   (These are not full week by week meal plans…but tools to help you build your own plan based on the guidelines I line out.)
SPECIFIC CARDIO PLANS
Get ready to get your heart pumping without super boring cardio! I like to be effecient and effective with your cardio training so I never ask you to do hours of boring, repetivive exercise. Each of my FITBODY Workout Plans for Women includes a detailed cardio program that you will love. Week by week, you will know specifically how much cardio to do to work toward those weight loss goals and have tons of options to keep things spicy.
ACCOUNTABILITY & TRACKING
Being fit is way more than just weighing a certain number on a scale or fitting into a specific clothing size. Flexibility, cardiovascular endurance, and strength are important indicators of progress. Every 2 weeks you will complete the FITBODY Fit Test to see how your overall fitness is changing in addition to your physical measurements. These changes help you understand your progress on a deeper level!
PROVEN RESULTS
I have developed each of these plans to help women reach a specific goal, just like I have done for thousands of women who have worked with me over the years. Each plan has been developed using the knowledge and experience of working with women for over 20 years. Success is possible, IF you use the plans and stick to them.
IMMEDIATE ACCESS!
Your FITBODY Plan will be emailed to you immediately after your purchase so that you can get started toward your fitness goals right away! No waiting for it to be physically mailed to you. All of my programs are completely electronic and come in easy to download files that you can access through your phone, tablet or laptop. You can also print out your program to follow along on paper!
Immediately accessible as a digital download. No hardcopy will be shipped.
Please note, all digital programs are non-refundable as there is no way to return them.