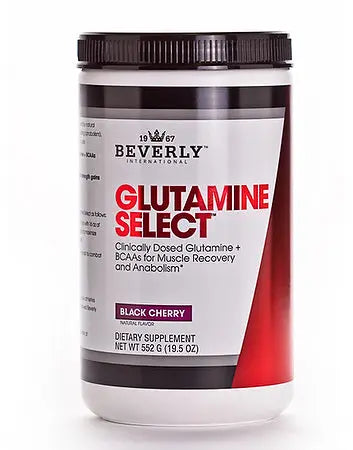 Beverly International Glutamine Select Plus BCAA's
Original price
$53.95
-
Original price
$53.95
Supported payment methods
Glutamine Select from Beverly International

The #1 supplement that can reduce muscle soreness, quicken injury recovery, and may preserve lean muscle for those that workout hard! 
Beverly International's Glutamine Select With BCAA's glutamine, leucine, isoleucine, and valine is a powdered drink mix available at Fit Body in incredible tasting flavors... Wild Berry and Black Cherry.
If your muscles are still sore from your last workout, you may not be able to give it your all at the next one. Hard-training athletes love Glutamine Select since it can reduce post workout soreness. Its clinically dosed blend of L-glutamine and BCAAs can help stop muscle soreness in its tracks so that you can recover faster between workouts.
BEVERLY INTERNATIONAL GLUTAMINE SELECT Plus BCAAs
Critical for Crossfit athletes, Figure and Bikini Competitors, Runners and all of those that workout with incredible intensity!
"When I know I will have a hard workout ahead of my, I always have Glutamine Select in my water bottle. I toss 1-2 scoops into my blender bottle, fill it with water and sip throughout my workout. Glutamine Select has saved me a ton of post workout soreness!" Julie Lohre
Size: 612 g (60 servings) 

Flavor: Wild Berry 

Benefits: 
Can help aid in post workout recovery
May improve muscle building & preservation
Why people like it 
The results: Glutamine Select may aid in reducing muscle soreness, quicken recovery, and keep you hydrated.
Many clients who want to alleviate cravings and preserve lean muscle on a calorie-restricted diet use Glutamine.
Unique formula: Glutamine Select contains 8,000 mg total of pharmaceutical-grade L-glutamine and BCAAs in the same doses shown to enhance lean muscle and strength in a clinical study.
60 servings!
Who is this product ideal for? 
Hard-training athletes who frequently perform high-intensity or prolonged, exhausting workouts (e.g. CrossFit, MMA, triathletes).
Many athletes consider Glutamine Select to be the best product of its kind for reducing muscle soreness and quickening recovery.
Anyone on a calorie-restricted fat-loss or cutting diet.
Secrets to Success 
Mix 2 scoops of Glutamine Select with 12-16 oz of water and drink during and immediately after workouts to reduce muscle soreness, quicken recovery, and boost anabolism.
If you are on a calorie-restricted diet, drink Glutamine Select in between meals to help alleviate cravings and protect lean muscle.
THESE STATEMENTS HAVE NOT BEEN EVALUATED BY THE FOOD AND DRUG ADMINISTRATION. THIS PRODUCT IS NOT INTENDED TO DIAGNOSE, TREAT, CURE OR PREVENT ANY DISEASE.