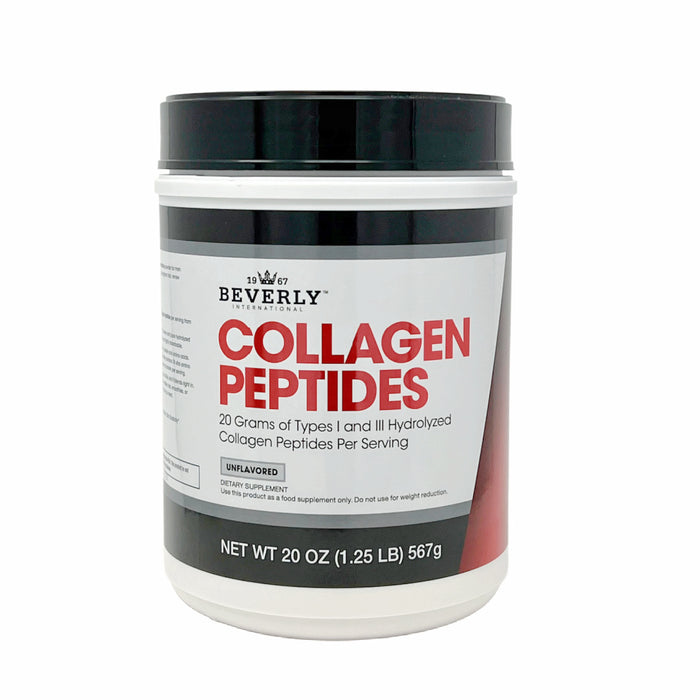 Beverly International Collagen Peptides
Save

$8.51
Save

$8.51
Original price
$42.50
-
Original price
$42.50
Supported payment methods
Collagen Peptides from Beverly International

ULTRA FAST DISSOLVING COLLAGEN!!!
Beverly International Collagen Peptides
20 Grams of Types I and III Hydrolyzed Collagen Peptides Per Serving

Beverly International's Collagen Peptides powder for men and women can help revitalize skin, strengthen hair, renew nails naturally.*

Distinguishing Features:
• Just one ingredient
• 20 Grams of Types I and III Collagen Peptides per serving from grass-fed bovine sources.
• Hydrolyzed Bovine Collagen: Our clean and pure hydrolyzed collagen peptides are tasteless and highly absorbable.
• Diverse Amino Acid Profile: Rich in protein and amino acids.
Beverly's Collagen Peptides naturally contains 18 vital amino acids and is packed with 18 grams of protein per serving.
• Easy to Use: Stir it into anything you'd like, and it blends right in.
It dissolves in cold or hot liquids-coffee, tea, smoothies, or even water. One serving a day is all you need.
Potential Benefits of Collagen Peptides:
• Youthful Appearance: Skin Hydration, Skin Elasticity*
• Strong Hair and Nails*
• Joint Function*
• Muscle Recovery*
Beverly International Collagen Peptides
*THESE STATEMENTS HAVE NOT BEEN EVALUATED BY THE FOOD AND DRUG ADMINISTRATION. THIS PRODUCT IS NOT INTENDED TO DIAGNOSE, TREAT, CURE OR PREVENT ANY DISEASE.