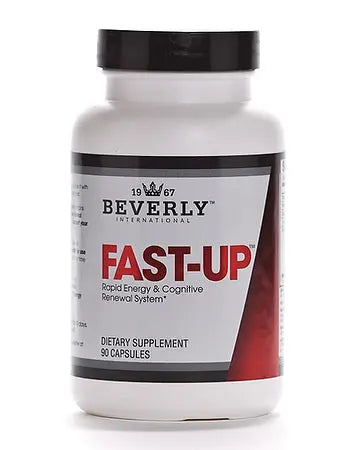 Beverly International Fast Up
Save

$9.20
Save

$9.20
Original price
$36.95
-
Original price
$36.95
Beverly International Fast Up
Early morning pre-workout and afternoon kick start supplement that helps with rapid energy & can boost cognitive renewal systems*

"Whether it is for that early morning workout or beating that afternoon slump, I find that when I use Fast Up from Beverly it helps me to think faster, perform better, and can provide an energy boost right when I need it!"
Julie Lohre - Women's Fitness Expert
Whether it's at work, school, or play, we all want a quick boost of energy and mental clarity from time to time. Unfortunately, many energy drinks and shots aren't all that healthy. Some contain ingredients that have been associated with side effects such as irritability, anxiety, sleep disruption, and difficulty focusing.
Fast-Up is a healthy alternative to these products.  Beverly International Fast Up can enhance the bodies natural energy-producing pathways with a synergistic blend of ingredients typically not found in energy boosters. 

Size:
 90 capsules (30 servings)
What are the benefits of Beverly International Fast Up?
Can Help Improve Performance & Energy
What do people love about Beverly International Fast Up?
Clients tell us that Fast-Up can help work faster and feel better than coffee and other energy boosters.
Premium-quality formula: Fast-Up contains premium ingredients like NADH, co-enzyme Q10, citrulline malate, and B vitamins which can help support cellular energy production, alleviate fatigue, enhance mood, and reduce free radical levels.*  This isn't your dollar-store energy shot!
Flexible dosing: One serving (3 capsules) provides 200 mg of caffeine, equivalent to 1.5-2 cups of premium brewed coffee. Simply take fewer capsules if you want a smaller dose of caffeine.
Who is Beverly International Fast Up ideal for?
Fast-Up from Beverly is ideal for the majority of people who want help with boosting their energy, mood, and cognitive performance before working out, work, or school.
Many clients use it as a pre-workout.
Secrets to Success
Adjust your starting dose according to your caffeine tolerance. For instance, if you typically drink 1 cup of tea daily, you may want to start with 1-2 capsules. Whereas, someone who drinks 2 cups of coffee every morning, should start with a full serving (3 capsules).
**Do not take 7 Keto Musclean and Fast Up together.
THESE STATEMENTS HAVE NOT BEEN EVALUATED BY THE FOOD AND DRUG ADMINISTRATION. THIS PRODUCT IS NOT INTENDED TO DIAGNOSE, TREAT, CURE OR PREVENT ANY DISEASE.