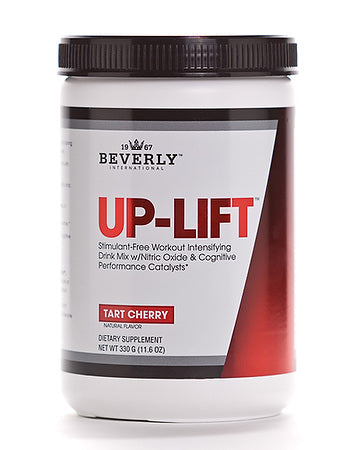 Beverly International UpLift
Save

$12.96
Save

$12.96
Original price
$48.95
-
Original price
$48.95
Supported payment methods
Push harder and last longer without caffeine.
If you're tired of pre-workout supplements that run out of gas part way through your workout, cause your heart to race, or make it difficult to fall asleep, then give Up-Lift a try. This stimulant-free, stamina-boosting formula supplement can help amplify the intensity of any kind of workout; weights, cardio, and more- without caffeine or crashes.
WHAT:
UP-LIFT is a low-carb hybrid training formula with three main functions:
1. Nitric Oxide matrix (arginine and l-citrulline)
2. Exercise performance matrix (beta-alanine, histidine, and betaine)
3. Mental acuity/energy matrix (l-tyrosine, rhodiola rosea, l-alanine and glycine).
UP-LIFT is a stimulant-free powdered drink mix that is intended to be mixed with water and consumed before and during training and may help sustain higher levels of mental and muscular output (performance) during resistance and cardiovascular forms of exercise.
WHO:
UP-LIFT is intended for use by healthy, exercising individuals over 18 years of age. Bodybuilders, figure and fitness athletes, mixed martial artists, powerlifters and other athletes who regularly engage in high-intensity resistance and/or cardiovascular exercise of any kind may benefit from consuming UP-LIFT immediately before and during their workouts.
HOW:
2 scoops 20-30 minutes before training and/or cardio. If expecting an extended training session or if doing cardio immediately after training take 1-2 additional scoops in the middle of training session.
WHY:
Whether you are a bodybuilder, a powerlifter, or any other type of athlete, UP-LIFT can help you hit the cardio or weights HARD!!
Doing a late afternoon or evening workout? Not quite in the mood to train? We've got the perfect fix, and you won't believe it's caffeine-free.
A great many pre-workout supplements are loaded with caffeine, sometimes along other CNS stimulants. While these products may be appealing to "stim junkies", they can make the rest of us feel like crawling up in a ball rather than going to the gym
Enter Up-Lift. Its natural ingredients can help prepare your mind and muscles for the best possible workout without caffeine or any other CNS stimulants. You can take it at any time of day without fear of crashing, experiencing jitters, or disrupting your sleep.
Because it contains no caffeine or other CNS stimulants, Up-Lift doesn't produce tolerance and isn't habit-forming. It works great the first time and the one hundred and first time.
Hit cardio or the weights hard, without a racing heart: Too much caffeine can cause your heart to race and make you feel out of breath, particularly if you're doing intense cardio. With Up-Lift, you can hit cardio or the weights hard without your heart pounding through your chest.
UP-LIFT contains ingredients that scientific studies suggest may support:
Lean Mass Gains and Positive Nitrogen Balance
Elevated Fat-Burning Metabolism
Nitric Oxide (NO) Action
Vasodilation
Detoxification of Ammonia
Gluconeogenesis and Thermogenesis
Blood Glucose Levels
Aerobic and Anaerobic Energy Metabolism
Muscle Carnosine Levels
Reduction or Delay of Neuromuscular Fatigue
Muscular Power and Endurance
Free Radical Protection
Neurological Function
Mental Well-Being and Vigilance
Resistance to Stress
THESE STATEMENTS HAVE NOT BEEN EVALUATED BY THE FOOD AND DRUG ADMINISTRATION. THIS PRODUCT IS NOT INTENDED TO DIAGNOSE, TREAT, CURE OR PREVENT ANY DISEASE.