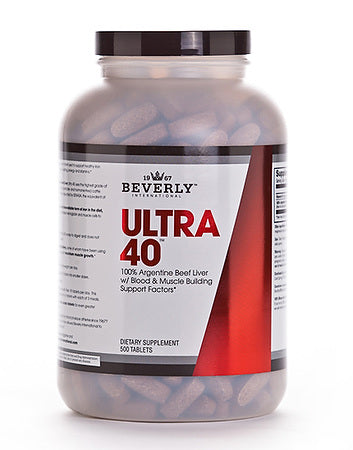 Beverly International Ultra 40
Save

$14.00
Save

$14.00
Original price
$53.95
-
Original price
$53.95
Supported payment methods
Ultra 40 liver tablets are designed for the hard training athlete who demands NOTHING BUT THE BEST!
A nutritional treasure from the "pre-steroid" era!
Ultra 40 can be an all-natural performance enhancer. Beverly Ultra40 is obtained from cattle that graze on the grassy, fertile hillsides of Argentina. Each tablet contains 100% Argentine beef liver loaded with a powerful array of vitamins and other growth factors that can support optimal blood and muscle health, and much more. Many clients consider Ultra 40 to be one of the best supplement investments they've ever made.
Why people like it
Results: Ultra 40 can help improvements in muscle fullness, pumps, stamina, strength and tone. Ultra 40 may also support the health of red blood cells. Ultra 40 can also help your muscles re-oxygenate faster during intense, fast-paced workouts.
All-natural formula: Ultra 40 is made with 100% Argentine beef liver from healthy, free-range, grass-fed cattle. The animals are raised under pesticide- and hormone-free conditions in facilities inspected by SENASA, the equivalent of the FDA.
Heme iron: Liver is rich in heme iron, the most bioavailable form of iron in the diet. It is used by red blood cells and muscle cells to synthesize the oxygen-carrying proteins hemoglobin and myoglobin, respectively. These two proteins promote stamina by allowing your muscles to reload with oxygen quickly during high-intensity workouts.
Stomach-friendly: Users report that Ultra 40 does not cause gas or stomach upset, unlike other liver tablets.
Secrets to Success
Take 1 tablet for every 10 lb of body weight, daily. Divide your daily allotment of tablets into smaller doses. The best times to take a dose are with meals and during workouts.
Clients report that they get the most impressive results by stacking Ultra 40 with Mass Amino Acids. A personal trainer told us that he puts his clients on Mass Amino Acids, Ultra 40, and a Beverly protein powder. 
THESE STATEMENTS HAVE NOT BEEN EVALUATED BY THE FOOD AND DRUG ADMINISTRATION. THIS PRODUCT IS NOT INTENDED TO DIAGNOSE, TREAT, CURE OR PREVENT ANY DISEASE.