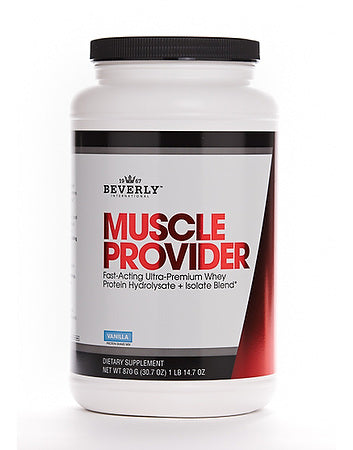 Beverly International Muscle Provider
Sold out
Original price
$53.95
-
Original price
$53.95
Supported payment methods
Beverly International Muscle Provider
Best tasting & highest quality whey protein shake available!
A high-speed whey unlike any other.
Muscle Provider is the pinnacle of no-nonsense whey protein supplements. Its exceptionally high level of WPH allows it to produce lighter, non-filling shakes that feed your tired muscles lightning fast without leaving you too full to eat later.*
Size:
1lb 14.7oz (About 30 servings)
Why people like it
Ideal for use pre-contest, pre- and/or post-workout, and as a non-filling snack to carry you between meals.
Tastes like fresh cupcake batter.
Exceptionally high in whey protein hydrolysate (WPH) and isolate (WPI). WPH is cross-flow filtered and enzymatically hydrolyzed to produce a mixture of peptides and free form amino acids that is ready for rapid uptake.
How do I choose between Muscle Provider and other Beverly proteins?
Muscle Provider is perfect for immediately pre- and/or post-workout,
Muscle Provider is prefferred during pre-contest or cutting cycles
Muscle Provider is a perfect a non-filling snack between regular meals.
Secrets to Success
Muscle Provider can  help to promote muscle recovery and building. We recommend at least one serving should be taken immediately after your workout. For maximum results, enjoy another serving 4-5 hours later.
THESE STATEMENTS HAVE NOT BEEN EVALUATED BY THE FOOD AND DRUG ADMINISTRATION. THIS PRODUCT IS NOT INTENDED TO DIAGNOSE, TREAT, CURE OR PREVENT ANY DISEASE.