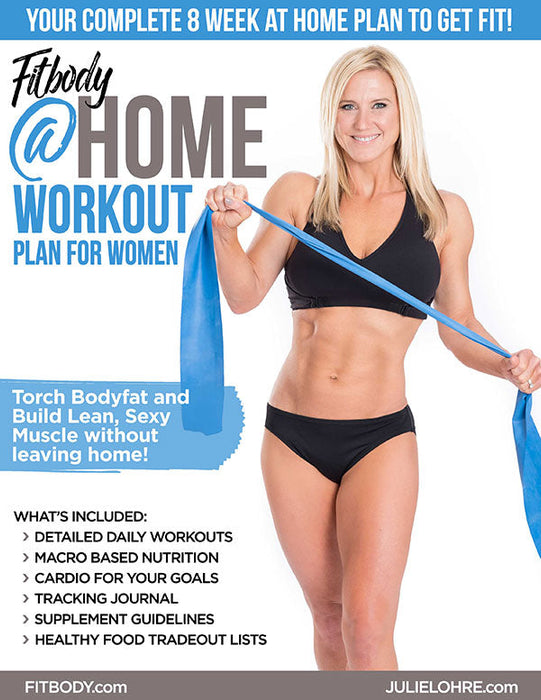 FITBODY At Home Workout Plan for Women
Original price
$99.00
-
Original price
$99.00
FITBODY At Home Workout Plan for Women

The FITBODY At Home Workout Plan for Women gives you everything you need to transform your body in 2 months... without leaving home!
Immediately accessible digital download so you can start today!
This comprehensive 8 week home workout plan (digital download) gives you the step-by-step guidance you need to achieve a healthy and fit body from home! It is time to find out all of the FITBODY training specifics you must know to succeed on your fat loss journey.
Detailed daily workouts so you will know exactly what to do from the moment you walk into your gym.

Nutritional Guidelines to help you determine your daily calories and the best macro nutrient breakdown for your goals. 

 

(This is not a full week by week meal plan…but a tool to help you build your own plan based on the guidelines I line out.)

The FITBODY Fit Test to track not just your measurements but your fitness and wellness gains.

Cardiovascular exercise schedule to aid in your weight loss goals and to improve your cardio health.

Printable tracking journals and detailed progress tracking so you will stay accountable and be able to easily document your weight loss journey along with the progress you are making as you lose fat with both your measurements and your overall fitness.

Time tested, realistic guidelines for fat loss supplements (including how to take them and which are best through each phase of your weight loss journey).
If you are tired of wasting time driving back and forth to a gym and want to achieve your fitness goals on your time, you need my FITBODY At Home Workout Plan!
Daily Workouts
Know exactly what to do every time you workout! My FITBODY At Home Workout Plan for Women includes 8 weeks of detailed daily workouts covering your whole body.
I line out specifically what to do for each workout, every exercise, how many the reps and sets... each time you walk into the gym you will know just what to do. No more wandering around or just repeating exercises you have done in the past.
To help you achieve your own fit body, you will be strength training 5 times per week with these full body home workouts and pushing your body to the limits. This home workout routine is designed to be done with minimal equipment right in the comfort of your home... on your schedule!
Nutrition Guidelines
Nutrition really does matter so I made a healthy nutrition straight forward and easy to understand. You will learn how to calculate the calories you need each day and how to incorporate the right foods into your daily nutrition plan. Every 2 weeks you will evaluate your progress and make changes to your overall calories based on how your body is responding.   (This is not a full week by week meal plan…but a tool to help you build your own plan based on the guidelines I line out.)
This full body workout routine includes nutrition guidelines with the best macro nutrient breakdown for losing weight while adding a bit of lean, sexy muscle.
Our goal will be to ignite your metabolism and burn fat through a balance of solid nutrition principles and strength training. You will be amazing at how many calories you should be eating and how quickly your body responds when you hit that optimal balance.
Cardio Schedule
In addition to the full body workout routine, the FITBODY At Home Workout plan includes a detailed cardio schedule that is ideal for the woman that wants to lose weight while shedding bodyfat.
With cardio, balance is key both in length and intensity. Too much and your metabolism slows down and you lose lean body mass. Too little and you don't burn enough calories to really lose weight. If you really want to transform body in 2 months then adding in the right amount of high and moderate intensity cardio will make all the difference!
You have plenty of options! Don't get stuck in a boring cardio rut. With this FITBODY Plan, you have the freedom to do the kind of cardio that works best for you body and that you enjoy.
Ideal for the busy women that wants to get in shape on her own time without the extra expense of a gym membership!
This whole workout can be done at home with just a few pieces of equipment.
Exercise / Stability Ball

Exercise Bands (Handled and Large Loop)

Dumbbells (sets of 10's & 15's are a great start… you may want to add in 8's, 12's & 20's over time)
Optional Pieces:
Kettlebell (you can sub in a dumbbell for exercises that use this)

Medicine Ball (you can sub in a dumbbell for exercises that use this)

Yoga Mat
Please note, all digital programs are non-refundable as there is no way to return them.
No hardcopy will be shipped.