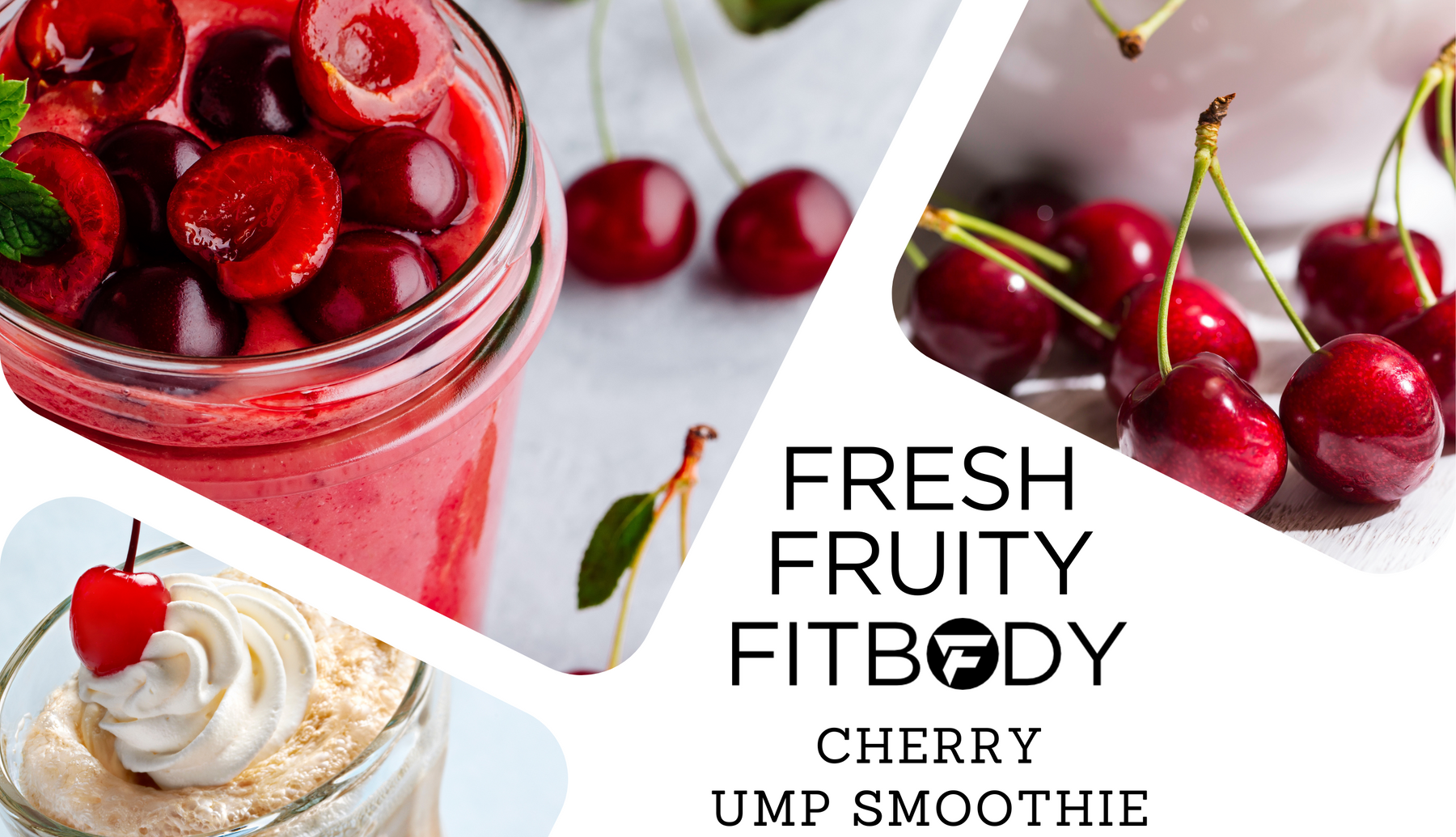 Get Creative with this UMP Cherry Protein Smoothie
Are you looking to add some excitement to your protein routine? Check out this UMP Protein Cherry Smoothie recipe!
By incorporating UMP Vanilla Protein Powder into this smoothie recipe, you can elevate your protein intake and enjoy a burst of flavor. Let's explore how this simple and nutritious UMP Protein Cherry Smoothie can become a go-to in your arsenal of protein powder recipes (spoiler, this is the first of many Ultimate Muscle Protein smoothie recipes we'll be rolling out).
Cherries: A Nutritional Powerhouse
Not only do cherries taste amazing and look beautiful in recipes, but they also offer a wide range of health benefits. Here are a few reasons to love cherries:
Reduce Inflammation & Aid in Muscle Recovery: Cherries have been shown to help reduce inflammation and assist in muscle recovery, making them an excellent choice for post-workout perfection.

Natural Melatonin Content: With their natural melatonin, cherries can contribute to better sleep, promoting overall well-being.

Heart-Healthy and Packed with Antioxidants & Vitamin C: Cherries are rich in antioxidants and vitamin C, supporting heart health and boosting your immune system.
The UMP Protein Cherry Smoothie Recipe
Now, let's dive into the Cherry Smoothie recipe, centered around Beverly UMP Vanilla Protein Powder, to add a serious jolt of the high quality and highly bioavailable protein.
Ingredients:
1 ripe banana (preferably frozen)
1 cup frozen cherries (tart cherries for a tangy kick)
1 tablespoon almond butter (or peanut butter)
1/2 teaspoon vanilla extract
1 cup unsweetened almond milk (or any milk of your choice)
Instructions:
In a blender, combine the ripe banana, frozen cherries, UMP Vanilla Protein Powder, almond butter, vanilla extract, and almond milk.
Blend until smooth and creamy.
If desired, garnish with coconut flakes, slivered almonds, or additional frozen cherries.
Customize Your Cherry Smoothie
To make this Cherry Smoothie truly your own, here are some delicious mix-in ideas to boost the nutritional value:
Flaxseed Meal: Add a tablespoon of flaxseed meal for an extra dose of fiber and minerals. Flaxseed can help balance hormone levels in the body, particularly in women, and have been studied for their potential benefits in managing symptoms of menopause.

Chia or Hemp Seeds: Incorporate a tablespoon of chia seeds or hemp seeds to boost healthy fats, fiber, and omega-3s. They also aid in creating a feeling of fullness and promoting satiety. 

Greek Yogurt: Add a scoop of Greek yogurt (or your favorite dairy-free alternative) for an extra protein kick. Adjust the almond milk quantity to 1/4 cup if adding yogurt. Added bonus - it's packed with probiotics, Greek yogurt promotes a healthy digestive system when added to smoothies.

Cocoa or Cacao Powder: Transform your Cherry Smoothie into a delightful chocolate cherry treat by adding a tablespoon of cocoa or cacao powder. It will provide antioxidants and a rich flavor.
Total Nutritional Breakdown (approximate w
ithout add ins

):

Calories: 446-456 kcal
Carbohydrates: 58-60g
Protein: 26.5g
Fat: 12.4-13.4g
Please note that the nutritional values provided are approximate and may vary depending on the specific brands and quantities used.
Enjoy Your Cherry Smoothie
To savor this revitalizing Cherry Smoothie, simply follow these easy steps:
Combine all the ingredients in a blender.
Blend until smooth and creamy.
Pour into a glass and enjoy!
With its vibrant flavor and the added benefits of UMP Vanilla Protein Powder, this Cherry Smoothie is a refreshing breakfast or snack option that fits perfectly into your health and fitness routine.
Now, go ahead and treat yourself to this delectable Cherry Smoothie while enhancing your protein intake in a fun and delicious way!