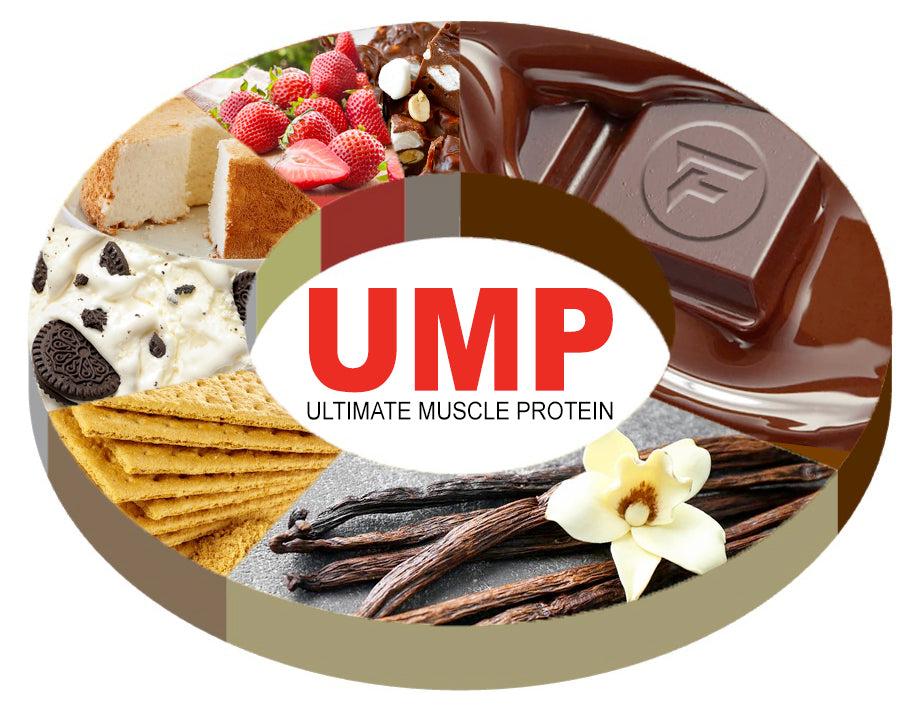 The Numbers Are In...
Are you curious to know which Beverly UMP Protein Powder flavor is the most popular among our loyal FITBODY family?
Well, we've conducted a poll on the flavor preferences of the seven UMP Protein flavors, and the results are in! We asked our community of customers to weigh in on their favorite flavors, and we're excited to share the findings with you. With flavors ranging from classic Chocolate and Vanilla to unique options like Graham Cracker and Angel Food Cake, there's a flavor for everyone.
So, whether you're a chocoholic, a vanilla lover, or an adventurous foodie, the results of our poll are sure to pique your interest!
Chocolate 33.1%

Vanilla 26.1

Graham Cracker 11.2%

Cookies & Creme 10.1%

Angel Food Cake 8.4%

Strawberry 7.1%

Rocky Road 4.1%
#1 Chocolate is always the answer...well almost
Chocolate protein powder is the most popular flavor of UMP protein powder by a large margin over 5 of the 7 flavors. The rich and decadent flavor of chocolate is a favorite amongst our customers that responded and the main reason we've heard is that it can be used in a variety of recipes, from protein shakes to baked goods. 
Another reason that was shared as a top choice is that UMP chocolate protein powder can be combined with other ingredients to create unique and delicious flavor combos. For example, many Beverly users add PB2 or peanut butter, or bananas to shakes to create unique flavor variations.
In addition to its versatility and reasons people love it, studies have shown that chocolate has also been shown to have potential health benefits. One fun fact about chocolate is that it contains small amounts of a compound which has been shown to have mood-boosting effects. So not only is chocolate protein powder delicious and versatile, but it may also help improve your mood! Likely adding to the reason it's #1 amongst FITBODY customers. 
"Tastes great!!! And I'm normally not a Chocolate lover! It's a great meal replacement when I'm trying to hit my daily protein goals." - Chaz C"
#2 Vanilla - Not so fast Chocolate...
Vanilla UMP protein powder may not be as flashy and decadent as chocolate, but it is a beloved classic among our FITBODY customers. The smooth and creamy flavor of vanilla is a versatile choice that can be used in a wide range of recipes, from protein shakes to pancakes and even in UMP Banana Muffins.
One reason why our loyal customers prefer the vanilla flavor is that it's a perfect blank canvas for creating unique and delicious flavor combinations. Whether you want to add a shot of espresso, some fresh fruit, or even a sprinkle of cinnamon, the subtle flavor of vanilla provides the perfect base for experimentation.
So, while chocolate may be the reigning champ, vanilla protein powder certainly has its own devoted following among our FITBODY customers. With its smooth, creamy taste and versatility, it's no wonder that vanilla is a popular choice for those looking to add some extra protein to their diet while also satisfying their sweet tooth.
"You absolutely will not find a better protein powder to bake with. It makes the most delicious pancakes, waffles, muffins, and baked goods in the world. The vanilla gives your treats a slight "powdered sugar" sweetness." - Nikki M

#3 Graham Cracker - Surprised Us Too! 🤯🤯🤯
It was a surprise to us that the Graham Cracker flavor of UMP protein powder beat out the ever popular Cookies and Cream for the #3 spot on our customer's favorite flavor list. However, it's clear that the unique flavor of graham cracker is a hit among our FITBODY customers.
One reason why the graham cracker flavor is so popular is once again its versatility. It's a flavor that can be used in many different ways, from blending it into a protein shake to using it in baking recipes. Many of our customers have shared that they love to use the graham cracker flavor by combining it with other protein powder flavors like Angel Food and Strawberry to create a "dessert" recipe that can be enjoyed in a convenient shake without having to bake! 
Graham cracker flavor also provides a nostalgic taste that takes us back to childhood memories of s'mores around the campfire. With its hint of cinnamon and graham cracker crust flavor, it's a comforting taste that satisfies our sweet tooth without being too overpowering.
Overall, it's clear that the graham cracker flavor has earned its spot as a top favorite among our FITBODY customers. Its versatility, nostalgic flavor, and potential health benefits make it a unique and delicious choice for those looking to add some extra protein to their diet.
"I purchased the Graham Cracker and was blown away by the taste. I mixed it with coconut water and WOW! It was like a coconut cream pie shake. It's not just good it's DELICIOUS. I'm also a fan of the Vanilla. It tastes just like an only fashioned milkshake. If you hesitate to buy because of the price point, take a risk. You won't regret it." -Violet M.

#4 Cookies & Creme - A Stand Out Amongst Stand Outs
Coming in at #4 on our FITBODY customer's favorite flavor list is Cookies and Cream protein powder. This flavor is a fan favorite due to its delicious taste and unique mouthfeel. Unlike other protein powders that rely on artificial flavors, our Cookies and Cream flavor contains actual bits of cookies, making it an indulgent and satisfying treat.
The combination of creamy flavor and yummy cookie bits is a match made in heaven. It's no wonder that our loyal customers choose this flavor when they're in the mood for something sweet and satisfying. The cookies and cream flavor can be used in a variety of ways, from blending it into a protein shake to mixing it into yogurt or even oatmeal.
Even though its a favorite for its delicious taste, it still contains a high-quality protein blend, 80:20 ratio of sustained release casein and fast-acting whey found naturally in milk but is also low in carbs and sugar. This makes it a popular choice among those looking to supplement their fitness routine with an extra boost of protein.
It's clear that the Cookies and Cream flavor has earned its spot as a top favorite among our FITBODY customers. Its indulgent taste, unique mouthfeel, and high-quality protein content make it a delicious and nutritious choice for anyone looking to satisfy their sweet tooth while also supporting their fitness goals.
Interestingly, our poll results showed that the Cookies and Cream flavor was the #1 choice among our FITBODY customers in the age range of 12-25. This age group tends to favor sweeter and more indulgent flavors, making Cookies and Cream a clear winner. With its crunchy cookie bits and creamy vanilla flavor, it's no surprise that our younger customers can't get enough of this delicious protein powder.
"Hands down the best protein powder I have ever had. I have ordered the chocolate several times but have recently tried the cookies & cream. And it's great. There is no after taste or that gritty texture. And shipping is fast. Win win all around." -Kenoshia S.

The "Last But Not Least" Three UMP  Protein Flavors
While Chocolate, Vanilla, Graham Cracker, and Cookies and Cream are the top favorites among our FITBODY customers, our three remaining UMP protein powder flavors are equally delicious and offer unique taste experiences that are worth exploring. Let's take a closer look at our Angel Food Cake, Rocky Road, and Strawberry flavors.
Strawberry UMP Protein
Beverly's Strawberry UMP protein powder is popular with our FITBODY customers for its sweet and fruity flavor.  Strawberry UMP Protein has a bold and distinct taste that is sure to satisfy your cravings. Whether you're blending it into a smoothie or simply mixing it with water, this flavor packs a delicious punch.
One of the unique features of our Strawberry UMP flavor is its ability to easily and perfectly blend with just a shaker bottle or by stirring with a spoon. You won't need any fancy equipment or appliances to enjoy this tasty flavor. Simply add the powder to your liquid of choice and shake or stir for a smooth and delicious drink.
In addition to its delicious taste and ease of use, our Strawberry UMP protein powder also contains the same high-quality protein blend as the rest of the UMP familly.
The Strawberry UMP protein powder has a clean, bold and sweet flavor making it a top choice among our loyal FITBODY customers who want a totally fresh and fruity taste.
Angel Food Cake UMP Protein
Angel Food Cake is one of the newer flavors of Beverly UMP protein powder, and it has quickly gained popularity among our FITBODY customers who are looking for a light, fluffy, and sweet taste.  It is the perfect choice for a dessert-like protein shake.
One of the standout features of Angel Food Cake UMP protein powder is its unique and fresh taste. It has a delicate and airy texture that makes it perfect for those who prefer lighter and less-intense flavors. This flavor can be easily mixed with water, milk, or other beverages using a simple shaker bottle, making it convenient for on-the-go use.
Furthermore, Beverly International is committed to using only the highest quality ingredients in their products, and Angel Food Cake is no exception. This protein powder is made with a blend of high-quality whey protein isolate, casein protein, and egg white protein, ensuring that you get a complete protein source that will help you meet your fitness goals. If you're looking for a delicious and fresh-tasting protein powder, Angel Food Cake UMP is definitely worth a try.
Rocky Road - Different...But Not Too Different!
Rocky Road is a unique flavor in the UMP protein powder lineup. While it shares similarities with the popular chocolate flavor, it offers a delicious twist on the classic taste that keeps users coming back for more. The mix of chocolate and nutty flavors, combined with the soft texture of marshmallows, makes for a protein powder that is both satisfying and indulgent.
One of the main reasons our customers love Rocky Road is that it is a great way to mix up their protein routine without straying too far from their favorite flavor. It's a perfect option for those who are looking for something different, but not too different.
Another reason why Rocky Road is a customer favorite is because it's a great way to satisfy a sweet tooth without consuming too many calories or sugar. By using UMP protein powder, customers can indulge in a delicious treat while still maintaining a healthy and balanced diet. So, if you're looking for a tasty and satisfying protein powder that offers a unique flavor experience, be sure to give Rocky Road a try!